One of the biggest causes of fires in homes is when lint build up in your dryer catches fire, especially from static electricity during the winter (See photo below of actual fire from lint build up) While we all try to clear lint from the dryer trap each time we use it, few of us actually remove the lint trap to clean the lint behind it.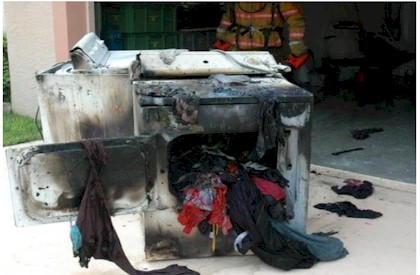 The lint lizard attaches to any vacuum and has a hose to insert into your dryer after you remove the lint trap. In less than 60 seconds, you will clean the dryer and wash and dry your clothes safely. In stock and shipping now. Order while supplies last.
FEATURES and BENEFITS:
- Super saver price from PulseTV
- Keeps you and your loved ones safe from lint fires
- Attaches to any vacuum
- Lightweight, under 1 lb.
- Easy to use
- Has suction control
- Includes vacuum adaptor and extension hose
- Saves you money rather than call for service to remove lint