If you're experiencing Carpal Tunnel pain, you may have tried those immobilizing wrist braces, compression gloves, or even pain relievers only to find that nothing seems to work.
Before you even consider painful surgery that requires a long recovery period, try Carpal AIDⒸ.
The Only Way To Get Instant Relief From Carpal Tunnel Syndrome Pain
Carpal AIDⒸ delivers lasting pain relief of Carpal Tunnel Syndrome without using any medications, bulky braces, uncomfortable gloves, or invasive surgeries.
The best part is, most patients report sustained pain relief after wearing the Carpal AIDⒸ patch overnight.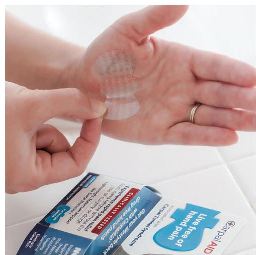 How and Why It Works
Using a medical-grade single-use adhesive strip that you apply directly to the deepest area of the palm (placement shown in picture). The patented patch and placement of the adhesive strip were engineered to lift the soft tissue in the palm, gently releasing pressure on the median nerve.
When properly positioned, symptoms normally decrease within one hour or sooner, depending on the individual and severity.
Works For Carpal Tunnel Syndrome Caused By:
Wrist trauma
Overuse
Diabetes
Pregnancy
High Blood Pressure
Arthritis
Why Are Doctors Recommending This?

This has been clinically tested and proven to work.
Most people get relief within one our of wearing it!
You can use it while you work throughout the day. No bulky brace needed.
This is Patented and FDA Approved.
FEATURES and BENEFITS:
10 Patches Per Package
For smaller hands up to 4 inches wide
Fast relief within a few hours
Drug free
No side Effects
Affordable and Non-invasive
Takes pressure off the median nerve
Keeps you comfortable to promote sleep
Safe for pregnant women
No Latex
Works on either hand
Each patch works up to 8 hours
Clinically Tested, Patented and FDA Approved
Doctor Recommended
Made in USA